Housing Shortage Hotspots Across The United States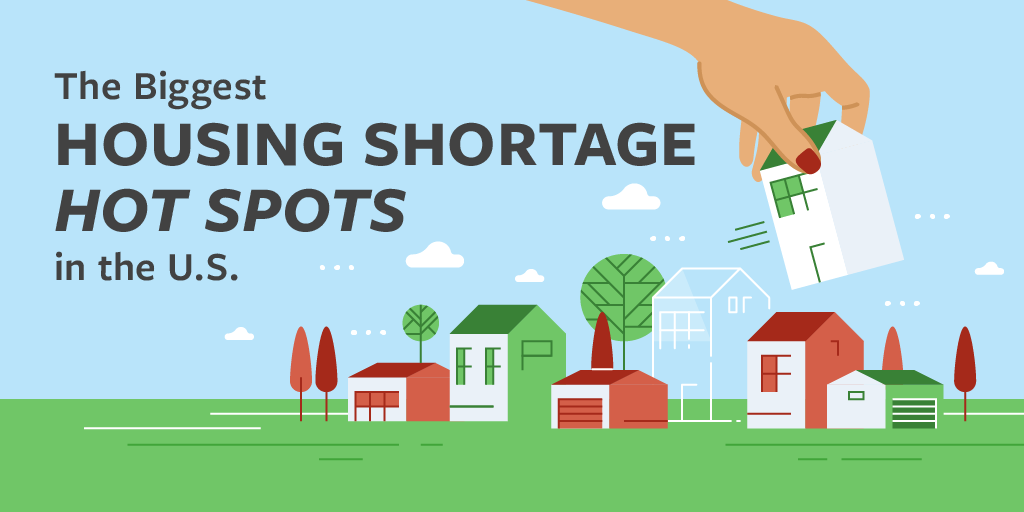 Today's real estate market is a seller's dream, with major demand and increasingly prevalent supply shortages across the country. Sellers can all but name their price, and eager buyers are ready to cough up the cash—especially in cities with growing job markets but limited home inventory. But where in the U.S. does demand most outweigh supply?
Key Insights
Out of 149 metro areas across the United States, 24 are currently experiencing a housing shortage.
Cities in southern states—like Charlotte, North Carolina, Austin, Texas, and Charleston, South Carolina—are the most represented among the top 20 cities with a housing shortage.
The cost of living in cities like Los Angeles, California, New York, New York, and Boston, Massachusetts may contribute to a housing surplus.
Houston, Texas, Detroit, Michigan, and Minneapolis, Minnesota are included in the top 20 cities with the biggest housing surplus despite relatively low costs of living.
The U.S. Cities with the Biggest Housing Shortages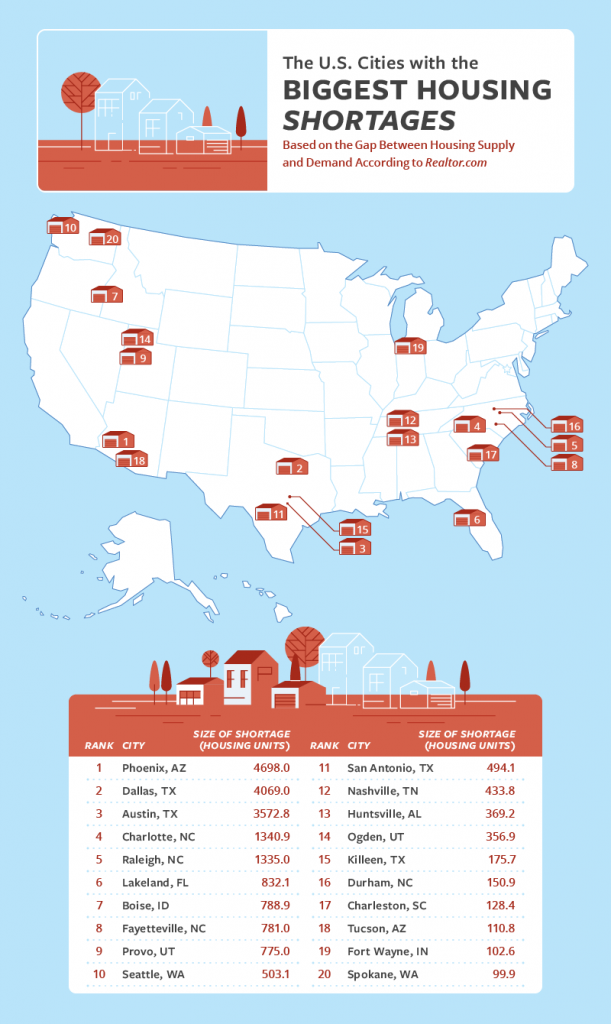 Out of the 149 metro areas included in this analysis, 24 are currently experiencing a housing shortage. The housing market is hottest down south, where an attractive climate and relative affordability have put the region ahead of the rest of the country with respect to growth. Unsurprisingly then, southern states are the most represented among the cities with a significant gap between supply and demand, accounting for 12 of the top 20.
North Carolina, one of the country's fastest growing states due to steady migration and employment opportunities, has a shortage in four cities—Charlotte, Raleigh, Durham, and Fayetteville. And with the recent unveiling of Apple's plan to build a new campus in the Raleigh-Durham area, available housing won't last long in a market already marked by scarcity.
Everything's bigger in Texas—even a housing shortage. Four cities in the Lonestar State—Dallas, Austin, San Antonio, and Killeen—are in the top 20, with Dallas and Austin ranked second and third. International and domestic migration to the state has contributed to a population boom in the last decade.
But Southern living isn't everyone's style, and housing shortages are a nationwide phenomenon. Fort Wayne, Indiana was the only midwestern city to experience a housing shortage, while western cities like Provo, Utah, Spokane, Washington, and Boise, Idaho also ranked among the cities where supply doesn't meet demand.
The U.S. Cities with the Biggest Housing Surpluses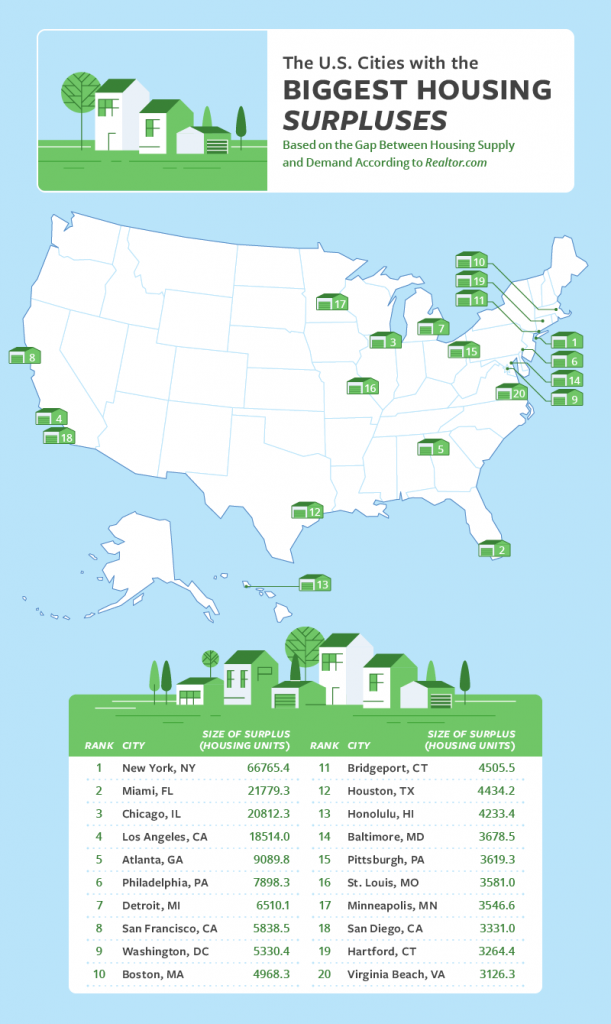 Interestingly, many of the cities where housing availability surpasses demand also have some of the highest costs of living in the country. This list includes northeastern cities like New York, New York, and Boston, Massachusetts, both among the most expensive places to live in the country. On the other side of the U.S., cities in California like Los Angeles, San Francisco, and San Diego boast top 20 rankings for housing surpluses—but this may not be a positive sign for the state. Since July of 2019, more people have left California to live elsewhere in the country than have moved to the Golden State. Many of those leaving have cited skyrocketing housing costs as the primary reason for relocating, which begs the question: can a housing surplus only exist in cities that are unaffordable for the average American?
Not always. Our analysis revealed that some of the cities with more housing supply than demand are actually relatively affordable. Detroit, Michigan, Minneapolis, Minnesota, and Houston, Texas all made the ranking; the cost of living in both Detroit and Houston is 26% cheaper than that of Los Angeles, and Minneapolis is 20% cheaper. A low cost of living and a larger housing market? We're in.
Full Data
Interested in diving deeper into housing shortage hot spots across the U.S. or wanting to see how your city ranks if it's not listed within the above maps?
We've compiled our full data study in this interactive data table. Search for the city you call home or click on the heading of each column to sort by that category!
If you've recently managed to find your dream home in today's market, transfer the deed for your new home with DeedClaim, where online deed transfer is made easier. DeedClaim helps you easily prepare quit claim deeds in Florida, California, Virginia, Michigan, and many other states.
Methodology
To determine which of the country's most populous metro areas have the lowest amount of available housing as compared to demand, we turned to Realtor.com. We reviewed active listings in May of 2021 to determine a metro area's supply, then analyzed the area's population change over the course of one year. All values were converted to one month's worth of data. It's worth noting that the data does not take into account current residents of each metro area who are actively seeking a home.