Best & Worst Places for Single Moms & Dads to Live and Date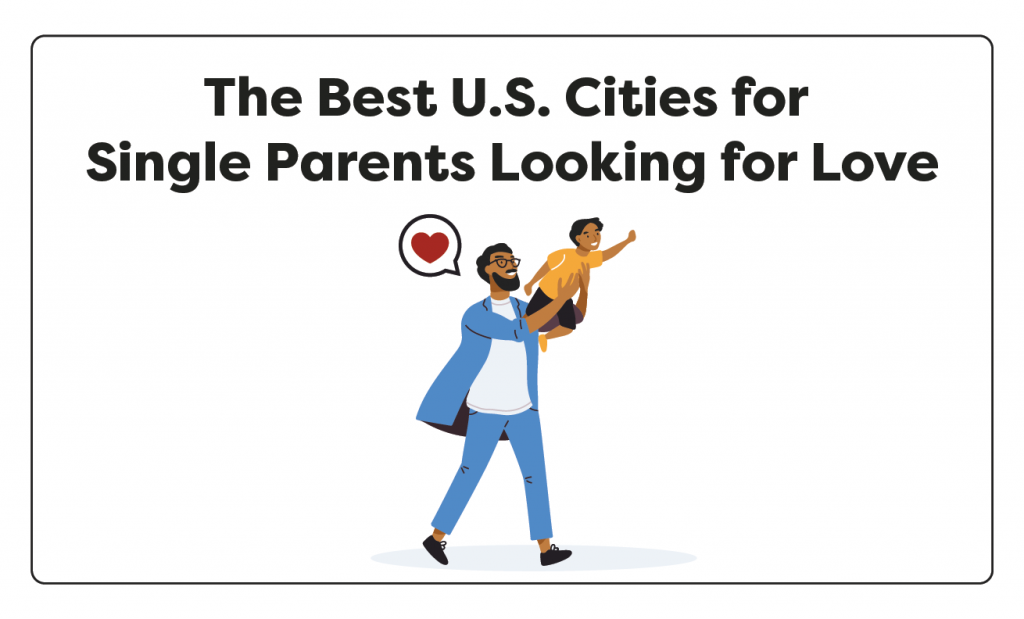 Let's be honest, dating is hard. Between scheduling the first date, turning on the charm, avoiding awkward silences, and letting someone down gently, it can feel like more of a job than a journey to love. Add children into the mix, and suddenly the time and effort needed to find The One increases.
For single parents everywhere, dating often gets put on the backburner—right next to the leftover SpaghettiOs the kids didn't want for dinner (again). Still, romance isn't just for the young and independent, and some cities across the country may actually make it easier to find love with limited free time and the crushing responsibility of molding tiny hearts and minds. But where?
The Best Cities for Single Parents Seeking Romance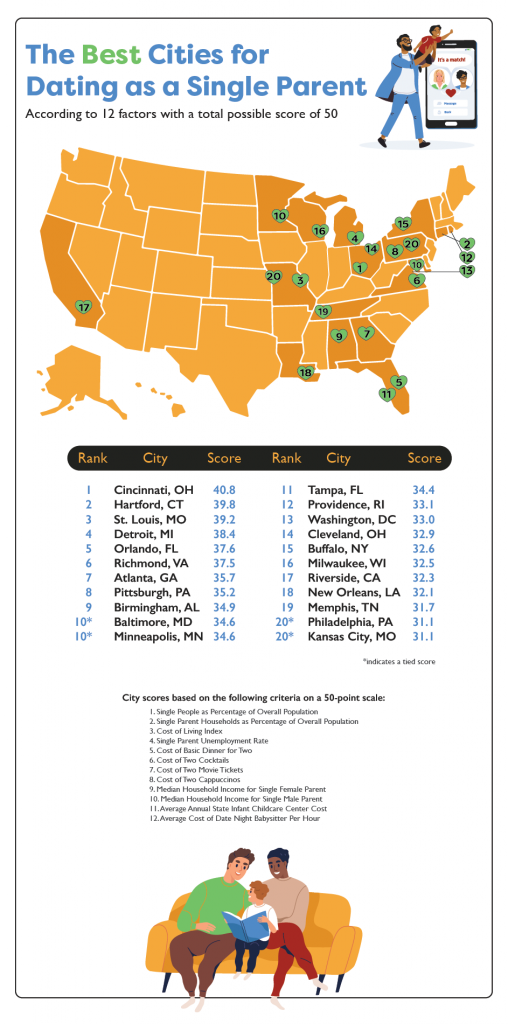 When it comes to cities for finding love while parenting, the Midwest has many of the best. Out of a possible score of 50 points, Cincinnati, Ohio ranked first with 40.8 points. With a relatively low cost of living, affordable options for a date night to remember, and a high percentage of single parent residents, the Queen City is perfect for single moms and dads looking for their Prince(ss) Charming. Seven of the 21 other cities ranking highly for romance-seeking while child rearing were also located in the Midwestern part of the country—perhaps because of all that space to grow together!
Things could heat up for single parents in the South, with eight cities in the region among the top rankings. Generally, these states shared low infant childcare costs and date night babysitter costs, freeing up hopeful Southern singles for dates that don't require a kids menu. Still, there are notable differences between the top cities in the South. Single parents in search of a partner with experience parenting may have better luck in Atlanta, Georgia, where single parents make up almost 40% of the population, than in New Orleans, Louisiana, where only 12% of the population are singles with dependents. Singles seeking a partner with a good job and good benefits may want to explore Richmond, Virginia, where the rate of unemployment for single parents is only 6.7%, while in Birmingham, Alabama, the rate jumps to 13.4%.
Four states—Pennsylvania, Ohio, Missouri, and Florida—boasted two cities a piece among the top 20 rankings. For single parents in these states, the options for a special someone may only be a drive away!
The Worst Cities for Single Parents Seeking Romance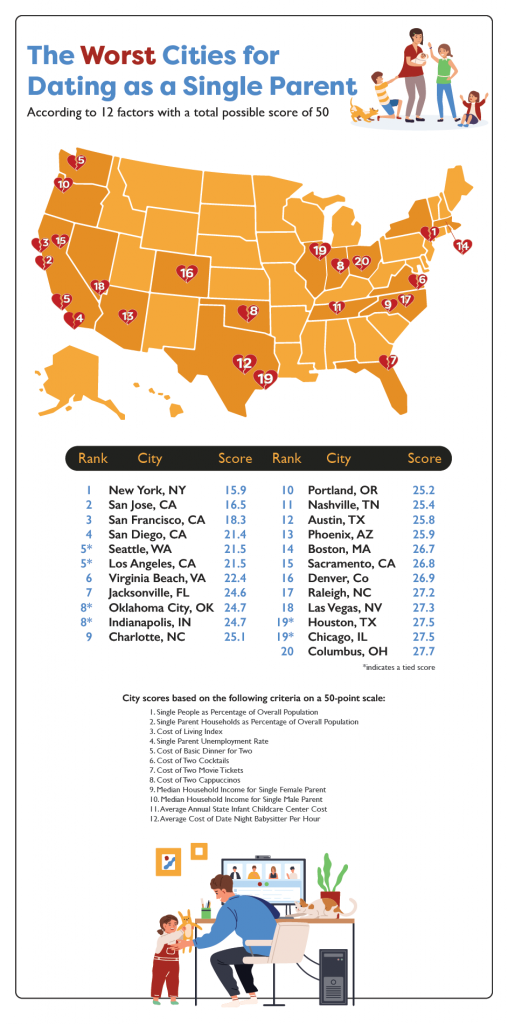 For single parents in the Big Apple, the chances of finding love aren't quite so big. With a score of 15.9, New York, New York ranked as the worst city for single parents searching for love. This may be due in large part to the number of single parents who call NYC home—only 6.6% of the overall population. Those lucky enough to find a date won't feel so lucky when the check arrives. A basic dinner for two at a local neighborhood spot will cost a couple $63.00; after-dinner cocktails will add another $25.00 to the evening's total—that's one expensive first date!
While New York may be the worst city, California may be the worst state, with five cities ranking poorly for single parents seeking partners. This is especially the case for single moms, whose median annual incomes in each of the five cities are significantly lower than those of single dads, sometimes earning little more than half as much as their male counterparts. When coupling smaller earnings with the average state child care cost—$16,000 a year—it may be hard for single moms in California to invest further time and money in the hunt for a love connection.
Generally, the worst cities for single parents looking to find love had higher costs of living, higher infant child care costs, and fewer single parents as a percentage of the overall population.
Full Data
Interested in diving deeper into the numbers for the best cities for single parents seeking love, or wanting to see how your city ranks if it's not listed within the above maps?
We've compiled our full data study in this interactive data table. Search for the city you call home or click on the heading of each column to sort by that category!
If you've recently found love and are taking the next step—moving in together—you may be looking to purchase a home that suits both of your needs. Transfer the deed for your new home with DeedClaim, where online deed transfer is made easier. DeedClaim helps you easily prepare quit claim deeds in Florida, California, Virginia, Michigan, and many other states.
Create a Customized Deed Online
Methodology
To find out, we collected data for 12 factors associated with single parenthood and dating for 50 of the most populous U.S. cities. Each factor was weighted based on its contribution to a city's overall support for single parenthood and personal lives. Cities could earn a total of 50 points, where cities with higher scores are considered better for single parents looking for love, and cities with lower scores are considered worse.
Ranking Factors
Single People as Percentage of Overall Population

Source: U.S. Census
Weight: 1.05

Single Parent Households as Percentage of Overall Population

Source: U.S. Census
Weight: 0.95

Cost of Living Index

Source: Numbeo
Weight: 0.75

Single Parent Unemployment Rate

Source: U.S. Census
Weight: 0.15

Cost of Basic Dinner for Two

Source: Expatistan
Weight: 0.10

Cost of Two Cocktails

Source: Expatistan
Weight: 0.10

Cost of Two Movie Tickets

Source: Expatistan
Weight: 0.10

Cost of Two Cappuccinos

Source: Expatistan
Weight: 0.10

Median Household Income for Single Female Parent

Source: U.S. Census
Weight: 0.30

Median Household Income for Single Male Parent

Source: U.S. Census
Weight: 0.30

Average Annual State Infant Child Care Center Cost

Source: Childcare Aware
Weight: 0.35

Average Cost of Date Night Babysitter Per Hour

Source: Care.com
Weight: 0.75
Note: Factor weights are determined by the research team's judgment on what is most important to the ranking.